Ancient Quest of Saqqarah
Download FREE »
WOW – that's all we have to say after playing the puzzle game of the century.
Ancient Quest of Saqqarah simply blew us away. It's not really something you would expect from a Match 3 game (most of them are quite similar) with an Ancient Egypt theme (like we've never heard that one before!). Boy, were we proven wrong. This game's fascinating variety of games styles, spellbinding cinematic clips, astounding effects and hilarious voice-overs made it the best puzzle game experience we've had in a long time.

The story goes like this: the evil god Seth lays imprisoned under the pyramid of Saqqarah. As the years pass, his binds become weaker. Your mission is to enter his secret confinement underneath the sands and fortify his lock down. There's only one way to reach the wicked deity – visit the seven secret temples of the gods who cast Seth into exile (Isis, Thot, Horus, Anubis, Bast, Osiris and Sobek) and conquer new playing styles.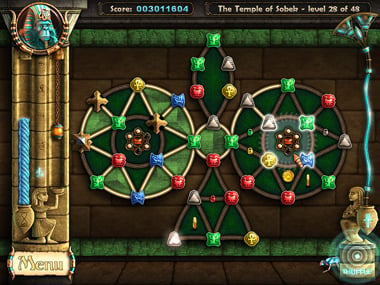 A very likeable and magical blue talking monkey called Khufu will narrate the game and take you on your journey. The game is packed with all kinds of entertaining effects that are triggered by making matches and flamboyant voice acting that will make you smile. The game's navigation is super smooth and easy to follow and the color schemes of each puzzle are wonderfully distinctive.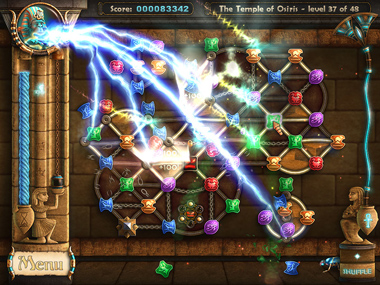 Here are the gaming styles you will encounter in Ancient Quest of Saqqarah:
Swap – the standard "move-adjacent-tiles" mode that we've all seen before in typical Match 3 games.
Pop – Click on the matches you see and they disappear. You don't need to move anything.
Select – Trace a path over an existing match.
Logic – move pieces around to make matches without getting any new pieces.
Paths – Move pieces along an open path to an empty spot and new pieces will appear if you don't make a match.
Rotate – Click on shapes to rotate the pieces surrounding them to make matches.
In Hand – Exchanges given pieces to make matches.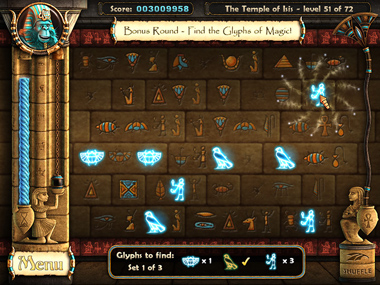 This game takes you off-guard with the massive variety these styles offer on the simple Match 3 game mechanic.  Ancient Quest of Saqqarah never gets repetitive, as many other puzzle games tend to do. On top of all the variety, there are hieroglyphic searching bonus rounds that offer magic points that you can use to skip levels and unlock new powers.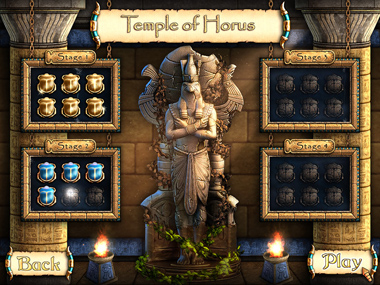 So apparently, Match 3 games can come in many more shapes and sizes than we thought (over 500 unique puzzles!) The design of Ancient Quest of Saqqarah is also distinct and the greater goal of making matches is far more complex than just passing a level by getting a certain score. If you are a Match 3 game fan and you haven't tried Ancient Quest of Saqqarah yet, then you MUST make it your next FreeRide Game. Brace yourself though because "You ain't seen nothin' yet'.
Have fun everyone!
Download FREE
Download this FULL Version PC Game with No Time Limits for FREE!