It's All About Masks
Travel to 19th century Europe in this mysterious Hidden Object game!

Always fancied a bit of adventure and mystery? Perhaps a secretive profession that allows you to travel all over the world and carry a license to kill? Well, long before the existence of 007, there was Mr. Cunning, the star of the exciting hidden object game – It's All About Masks. A British Secret Agent who protected his country in the 19th century, some even say that Mr. Cunning was the best his country has ever seen!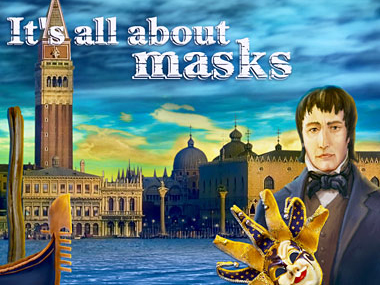 The year is 1874 and your new assignment is to accompany Teodor Milos to Venice with some very important and secretive documents. The only problem is that Mr. Milos appears to be slightly on the shady side and in fact, shouldn't be let out of your sight or trusted with these documents at all. Should these documents go missing, Mr. Milos may very well be branded as a traitor and you may be requested to execute him immediately!
It's All About Masks starts when you board the Victoria Yacht to Venice with Mr. Milos. But, as expected, within a few days the documents indeed go missing. Now begins your quest to find out who stole the documents and attempt to get them back. You start this hidden object game by searching each of the yacht's rooms and the occupants' quarters. Predictably, these slightly eccentric characters are glad to point a blaming finger in each other's direction, which means that you end up searching each and every room on board.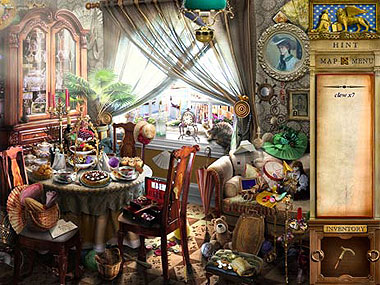 The game is divided into two types of scenes: hidden object games and mini-games. The hidden object scenes are completely random (with the added value of being able to play this game again and come across different objects to find), except for inventory items, which you need to collect and use later on in the game.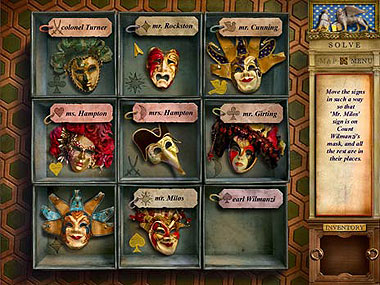 The fun thing about this game is that you can play the scenes in different order, simply by selecting what room you want to search first. The question is: Should you start with Colonel Turner and risk getting scratched by his cat or perhaps enter Ms. Hampton's room and risk tripping over lipsticks and shoes? Ah, choices choices…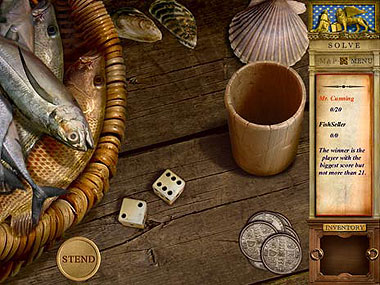 The visuals in the game are bright and colorful with great attention to detail, although sometimes this results in the hidden objects being difficult to find or rather small. Luckily there is a "Hint" button that points you in the right direction. Perhaps more hints would have been handy in this game, but having said that, the hint button does re-charge every few minutes.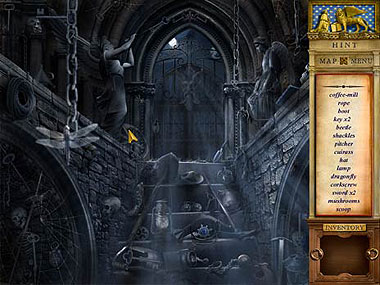 The mini-games are good fun and completely different for every scene. They vary from sewing a jigsaw by re-assembling pieces of a rose to rotating ancient plates in order to create a password and open a casket. Some mini-games can be skipped but others, like matching name tags to masks, are vital for the game and you must complete them in order to move on.
So, now the question is: Will you be able to recover these top-secret and important documents before you arrive in Venice? Play It's All About Masks now and see if you're up to the challenge!
Download and play It's All About Masks for FREE!
Game Review: It's All About Masks