Jewel Quest Mysteries 2 – Trails of the Midnight Heart
Download FREE »
Travel down a path of mystery and intrigue to uncover relics
In Jewel Quest Mysteries 2: Trail of the Midnight Heart, Eva Witheby heeds her uncle's Donald's call to visit him in India to solve a brand new mystery!

Always up for a challenge, Eva makes her way to Bombay only to discover that her uncle and his colleagues have already gone on ahead, leaving a note for her to return back home. But having already made the long trip and with her curiosity well and truly ignited, Eva decides to stay and ends up in an adventure of her own with two complete strangers!
The aim of this hidden object game is to find the missing pieces of a jewel board which are scattered all across Southeast Asia in 20 different locations. You start out in India and move on to visit exotic places like the Taj Mahal Gardens, the mystical Shangri La and a seedy back alley in Shanghai. Most locations have an indoor and outdoor hidden object scene where you need to look for various hidden objects as well as a piece of the missing jewel board. The hidden objects are completely random for each scene (so you can play the game again without getting bored) except for inventory items, which you need to collect and use later on in the game (for instance to uncover hidden pieces of the jewel board).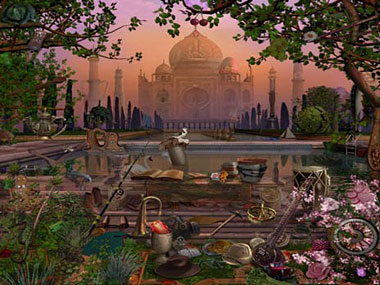 Each scene in Jewel Quest Mysteries 2 also has various extras. Collecting three golden coins, for example, buys you additional hints (which are always helpful), or you can look for gems that can be used to buy power-ups in between hidden object scenes. The challenging parts of the game are the relentless timer and the stressful fact that clicking incorrectly three times results in being penalized with 30 seconds off the clock! Luckily some of the power-ups along the way allow you to freeze time or gain extra time on the clock.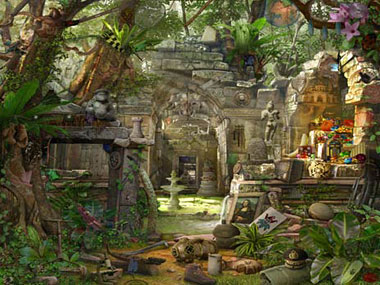 The mini-games are divided into two; simple match three games between scenes where you need to match various jewels and other items on the board and color it gold and, bonus mini-games which you can reach by clicking on one of the Transportation icons on the map. Once you "board" your method of transportation (for instance a plane or a train), the bonus game begins and you have to find 20 objects of the same kind: like stars or cartwheels. While the bonus games get slightly mundane after a few rounds, the good thing about it is that if you can't manage to get the 20 items in the first go you can try again and again… and of course remember to use them wisely for power-ups.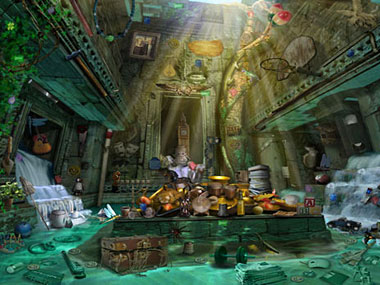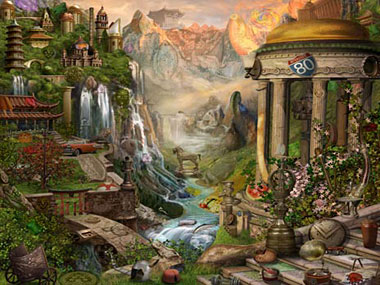 While the mini-games in Jewel Quest Mysteries 2: Trail of the Midnight Heart are slightly repetitive, the main game makes up for it with the beautiful and exotic locations and a great storyline, told via Eva's handwritten journal. If you allow yourself to be drawn into Eva's adventurous world, you are sure to enjoy hours of hidden object fun.
Download and play Jewel Quest Mysteries 2: Trail of the Midnight Heart now for FREE!
Game Review: Jewel Quest Mysteries 2
Download FREE
Download this FULL Version PC Game with No Time Limits for FREE!