Little Shop – Memories
Download FREE »
Keep your memories fresh by creating a wonderful scrapbook
In Little Shop – Memories, you are moving from Main Street in Huntingdon to a new store in a sandy paradise. Although it may seem that all you need to start playing this classic hidden object game is your bathing suit and sunscreen, there is a small thing you must take care of before you can hit the road… cleaning out the attic! Probably not most people's idea of fun, except for the fact that suddenly you find the birthday card Uncle Roy gave you and you start remembering how the $5 in the card helped you start your own Lemonade stand that summer. This of course takes you down memory lane and so the game begins…

The attic is full of bits and pieces, like a safe, a broken television and a bookcase, and each one of these 16 objects trigger a series of four memories plus a mini-game. Each memory is in a different location, like the family BBQ or summer camp and even the bike shop. And after each scene you receive a keepsake like an old photograph for your scrapbook, which tell a cute story or reminds you about a blast from the past.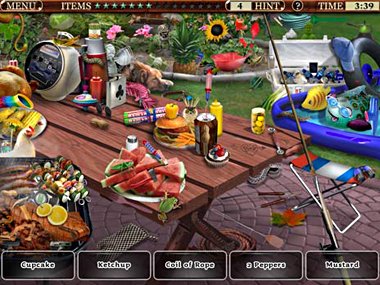 In each scene of Little Shop – Memories you look for 15 items on your list, although you only need to find 10 to move on to the next scene and the remaining five items earn you gold stars. The hidden object scenes are packed with original power-ups, like a thermometer, which indicates hot/cold when you are getting closer to an item on your list or a special camera, which gives a quick flash and shows you where all the items are located. But beware; every scene only has two cameras and two thermometers and once you've used them up they are gone from the scene, which you will revisit throughout the game.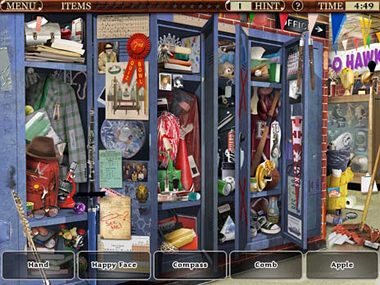 Fear not though… should you need additional help you can always click on the "hint" button, which creates a sneak peek at the item rather than pointing out to its actual location. And, throughout the scenes you can find "?" marks, which charge your hint counter and carry over to the next scene.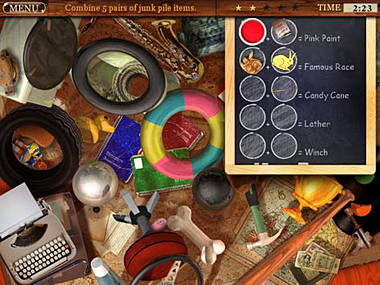 The mini-games after every four scenes are easy enough but unique and still good fun. Some are matching items, like jewelry or pieces from the junk piles. Others moving items back to the bookshelf or their rightful place in the toolbox. Once the mini-game has been completed it provides the next set of keepsakes; for instance, restoring a vintage photograph gives you the combination to unlock the safe and move on to the next stage.
Another great feature is the Blitz mode, which you can try after completing the regular mode, where you get the complete list of 70+ objects for each scene (rather than coming back to visit five times) and you need to find them all as quickly as possible.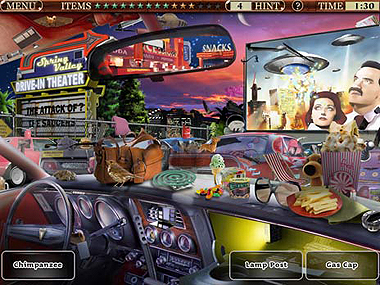 With 60 regular levels, an incredible amount of detail in each scene and unique gameplay, Little Shop – Memories really is a great hidden object game. Enjoy not only the fun games but also the scrapbooks and trophy room where you can collect souvenirs and memories.
Download and play Little Shop – Memories for FREE!
Download FREE
Download this FULL Version PC Game with No Time Limits for FREE!