Nightmare On The Pacific
Download FREE »
Momma Brooks decides to escape the sinking Neptune Cruise Ship.
Momma Brooks decides to pass on a chance to escape the sinking Neptune Cruise Ship and search for her husband and children before it's too late in Nightmare on the Pacific. She is no doubt the original Super Mom as she puts out fires, clears debris with a hacksaw and climbs ropes to maneuver from room to room in this suspenseful Hidden Object game.
So how did this incredible woman get into this situation anyway? Well, she was enjoying a pleasant family cruise holiday with her husband, son and daughter when a disastrous hurricane struck. During the stormy chaos, the mother is separated from her family. She is left with no choice but to brave the dangers of the battered ship and find all her family members before the raging storm claims the Neptune forever.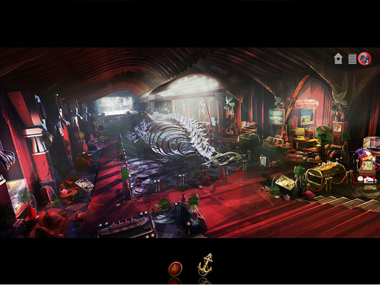 Playing the super mom character in Nightmare on the Pacific was totally empowering and we absolutely loved the fact that this game took place aboard a ship as this is a rare venue for a Hidden Object game. The graphics, sounds and voice acting were magnificent! The creaks and screeches of a collapsing ship and the sound of the rampant storm had us wiping ocean spray off our faces!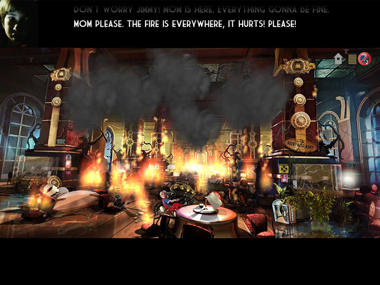 Nightmare on the Pacific consists of basic Hidden Object scenes and an assortment of challenging puzzles that will keep you on your toes like jigsaws, machine repairing and tile sliding puzzles. You must achieve all these missions as you navigate the ship in search for your family members. After every Hidden Object challenge, you'll be awarded a least one thing that you will have to use later to advance in the chapters. For example, you'll receive a screwdriver which you can later use to reassemble a broken control wheel.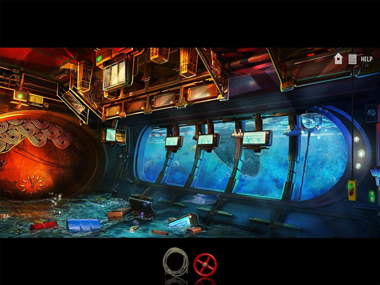 As there is a lot of backtracking in this game from room to room of the ship, the in-game diary is a great feature that you should definitely use. You can find it in the top right corner of the screen. It allows you to keep track of all the missions you accomplish in the game, see your location on a map, see where you've been and where you should go next. If you ever feel lost at any point in the game, scan the screen for objects or areas that are twinkling. These are items that you should notice or need in order to move on.
Regarding hints in Nightmare on the Pacific, they are only available during the Hidden Object challenges. The good thing is, they only take a short time to recharge.
If you're looking for an enjoyable Hidden Object game with a unique game setting, Nightmare on the Pacific is a wonderful choice. Our only complaint is that the experience ended all too quickly. We completed the game in a bit less than two hours, which was great – but we were hungry for even more ocean excitement. So snap on your lifejacket, gather up some courage and try it now (motion sickness pills not included :)).
Download FREE
Download this FULL Version PC Game with No Time Limits for FREE!