Secrets of Great Art
Download FREE »
Solve a series of perplexing picture puzzles!
If you fancy yourself a bit of mystery then Secrets of Great Art is definitely the game for you! Now, you are pre-warned; this picturesque hidden object game isn't for the lighthearted, it doesn't include a long intro or pages of information about the game… oh no, you get thrown right in there!

Secrets of Great Art begins with your hero waking up, lying on the floor in a mysterious place. The room he's in appears to be stylishly decorated although deserted with boarded up windows and the door is locked. He has no idea where he is or how he got there but he immediately starts looking for a key to open the door. No key can be found but suddenly the pictures on the walls draw his attention… perhaps the solution is to be found within them?
The beautiful paintings appear to be famous ones like Dolce far niente by John William Godward and Harem Women Feeding Pigeons in a Courtyard by Jean-Léon Gérôme but something is off about them… they appear to have extra objects in the paintings, which clearly shouldn't be there.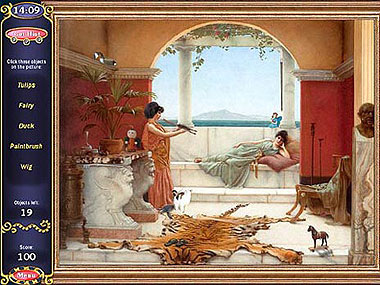 And so the game begins… along with the mysterious and captivating storyline, the game unfolds as our hero looks at painting after famous painting only to realize that each painting has extra objects that shouldn't be there.
In total, Secrets of Great Art features 60 hidden object levels, each with its own rare and beautiful painting and unique list of hidden objects to be found. In one painting it will be a sushi roll and in another it can be a yellow car – clearly these items have no business in a painting from the 19th century! The game also includes mini-games between levels, which gives you the opportunity to earn bonus points. The mini-games run along the same concept of showing two near-identical paintings and you must spot the 10 differences between the two – such as one of the ladies in the painting might be missing a tiara or a piece of her dress.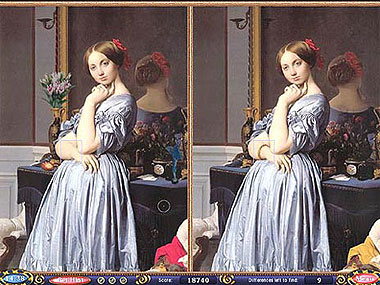 The game comes in one mode, which has a timer for every hidden object scene. You have 15 minutes to find all 35 hidden objects in the scene but beware; you will be penalized for clicking too many times in the wrong location and consequently you'll lose time off the clock. The first scenes are rather easy but as the game progresses the paintings become more detailed and the objects become harder to find. Luckily you have a Hint button, which you can use to find any objects you just can't get your hands on!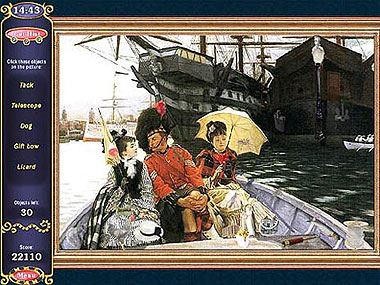 This hidden object game has a brilliant storyline, unique in its own way as it unfolds slowly between each scene, keeping players curious and on their toes at the same time. Mixed in with truly beautiful artwork by painters like James Jacques Joseph Tissot and Sir Lawrence Alma-Tadema, Secrets of Great Art is a feast to the eyes as well as the brain.
Download and play Secrets of Great Art now for FREE!
Game Review: Secrets of Great Art
Download FREE
Download this FULL Version PC Game with No Time Limits for FREE!