The Magician's Handbook 2 – Blacklore
Download FREE »
Defeat the evil pirate magician and save your friends!
People – grab your wands and let the Hidden Object magic begin as you play The Magician's Handbook 2: Blacklore!

After saving Cursed Valley and becoming a pupil of the wise Wizard in The Magician's Handbook: Cursed Valley, our hero was looking forward to a life filled with adventure and mystery. Unfortunately the Magician's Handbook became useless and our hero returned home to his unexciting life. Now, two years, later the Magician's Handbook is starting to come alive again with the voice of Corrigan, the fairy helper to the wizard and he desperately needs our hero's help!
It's now your job to help free the captured magicians and trapped fairies by stripping the extremely powerful and evil magician pirate Blacklore from his powers.
However, as our hero wasn't born with magical powers, his aim is to collect enchanted objects, which will allow him to cast spells. The brilliant thing about the game is that the hidden object lists in the various chapters are randomized, so if you play the game or chapter again you will most likely have a different selection of objects.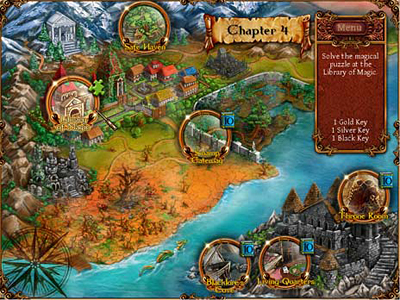 Each chapter comes with just five hints but… fear not! Once you have used them all up they slowly recharge again. Alternatively, you can search for hidden keys in each scene, which open treasure chests that hold additional hints, magic wands and spells. The keys have different colors; gold, silver and black and each chest requires a different colored key and also a different amount of keys to open it; some treasure chests can be opened with one key, others require seven so you should really save them up.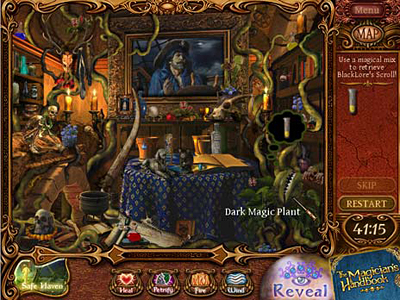 Each chapter requires you to find the hidden objects, followed by a mini-game that requires you to return the objects to their rightful place. Finding enough enchanted objects allows you to learn and practice spells, which will then be used for solving the chapter's puzzles.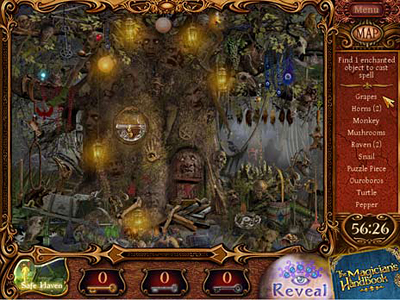 Another great thing about this hidden object game is that as you play, there helpful pop-ups in every scene that explain what you need to do, plus there are additional explanation in the right-hand sided menu. You can also refer to the Magician's Handbook at any time to review the chapter's goals.
The puzzles are challenging and original; using a Wind spell to create a magical gust of wind, which should reveal missing pieces of a scene. Another puzzle requires you to find the right sequence when lighting five different lanterns, without turning any off in the process… pretty challenging! Many of the puzzles are randomized so should you restart the scene or play from scratch, your puzzle would be completely different. Thankfully you can skip levels when things become too frustrating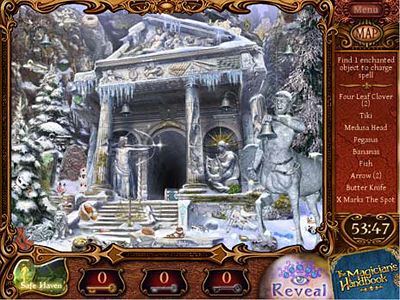 While the theme of the game is enjoyable and the little extras are fun, like being able to change your wand for example, at times it feels like a magnifying glass is in order, as some of the objects are tiny and very hard to find. However, the game does have various settings and can be played in Casual mode, which is easy-going without the stress of a timer, allowing you plenty of time to look for objects. Or if you feel like a challenge, play in Apprentice mode, which adds the timer.
So the bottom line is… are you ready to spread some magic?
Download and play The Magician's Handbook 2: Blacklore and find out!
Download FREE
Download this FULL Version PC Game with No Time Limits for FREE!