Tulula – Legend of a Volcano
Download FREE »
Rescue the tribe's shaman who has been imprisoned by an evil spirit!
Search for holy totem stones needed to save a tribe from a dark spell and rescue the tribe's Shaman who has been imprisoned by an evil spirit in the hidden object game Tulula – Legend of a Volcano.

Tulula – Legend of a Volcano begins with a magical story: Once upon a time, on an island far away, lived a peaceful tribe. Until one day an evil spirit broke free and destroyed the tribes' happy life by casting a spell over them. Only one tribe member escaped, the chosen one, who must now save the tribe by reconstructing the Guard Totem. This can only be done by collecting the lost pieces that have been scattered around the world…. and so this exciting hidden object game begins!
You start in the Shaman's Cave, which lures you into the storyline and also serves as a tutorial on how to play the game, whilst providing you with handy inventory items like a notebook and a map. From there you will travel to 11 different locations, like the Ruins of Kalamuna and The Island of Loss, in order to eventually manage to reconstruct a portal and return yourself to the Totem Room.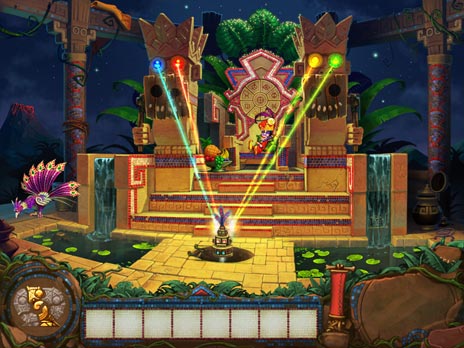 In each location you must search for various hidden objects like colored pearls, rope ladders and even a magic wand, all the while trying to earn Talents (money) as well as rewards that are placed on your Sacred Tree. Some rewards are received simply by completing a level, others for being a "good" player and not skipping many mini-games or using up too many hints.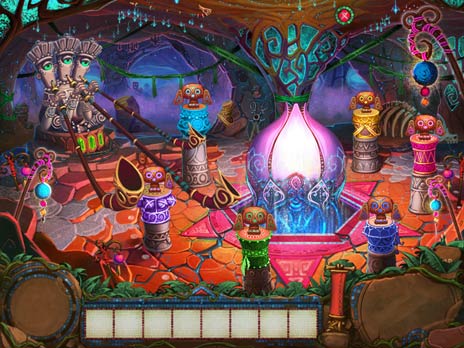 In addition to the great hidden object scenes, Tulula – Legend of a Volcano is packed with fun mini-games; like fixing a staircase monkey Ivan broke or repairing the Temple Dome by placing all the pieces of glass in the correct location. And, to add some mystery you also get to take a break in the spirit world, where you will have to find various items in order to trigger an event or receive an object that can be used back in the real world.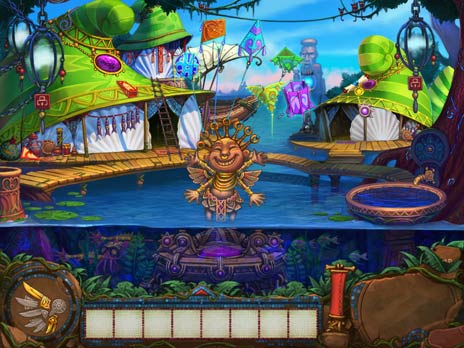 Drama is never far away for our heroic tribe member: whilst busy traveling the world looking for the missing Totem pieces, a Tornado destroys his village. Fear not though, as various bits of blueprints are hidden throughout the world, which – along with the Talents you earn from each level – can be used to rebuild the village bit by bit. This can be a fun pick-me-up throughout the game or alternatively, you can leave it to the end and repair the village all at once.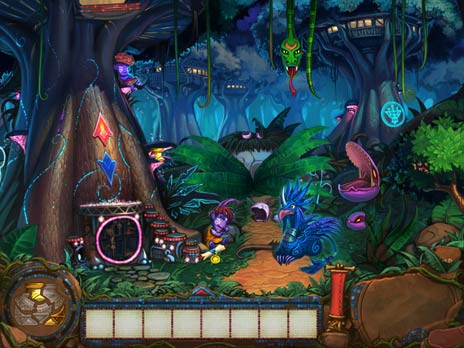 Once all 11 levels are completed your portal will finally appear and you will be transported back to the Totem Room where all your collected pieces will be counted to see if you can finally reconstruct the Guard Totem and save your tribe!
With unique and colorful graphics and a great storyline, Tulula – Legend of a Volcano provides hours of fun gameplay and guarantees to keep you on your toes!
Download and play Tulula – Legend of a Volcano for FREE!
Download FREE
Download this FULL Version PC Game with No Time Limits for FREE!