Virtual Families
Download FREE »
Guide your own little family through generations of endless fun!
If you have always wanted your own little family without having to provide for them or clean up after them, this is your chance! Virtual Families is a Strategy game that allows you to "adopt" a character. And your first dilemma, of course, is who should you pick?

Perhaps Inky the Novice Film Processor who doesn't really want kids and earns quite a nice salary? Or Pieretto, a 25 year old Beginner Ketchup Bottler? How about Soonette, a Beginner Art Critic who likes work and is scared of heights? Oh choices choices….
Once you have managed to decide though, your little character is all yours! They get to move into your house and then the aim of the game is to keep it healthy, happy and entertained!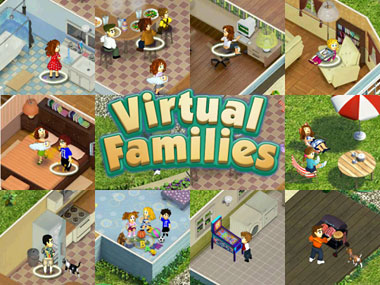 Obviously some basic housekeeping is necessary so start teaching your character immediately how to tidy the house, a bit of cooking and some work to thicken their wallets so they can pay for groceries and house upgrades. Don't forget it's also your responsibility to educate them so feel free to praise or scold them accordingly with a Green or Red glove.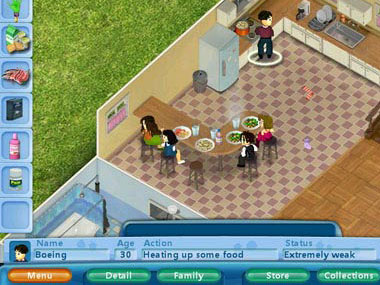 And what about some company? You wouldn't want your little character to get lonely! Hit the computer and check out the dating site, which allows them to "order" a bride or groom who is compatible with their personality. Remember to check whether they both want kids or like work as this might cause frustrations in the future and reduce their level of happiness!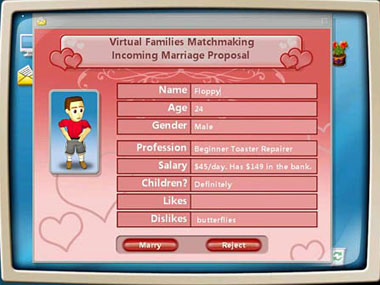 Surprisingly, although they clearly want a spouse and happily embrace each other when they first meet, they kind of live a separate life. Each has their own tasks and activities and it's your job to make sure they are each fed when hungry and showered when feeling "un-fresh".
The best thing about this game is that the more points you collect, the more you can expand your family (couples having kids, single parents adopting a child or a pet) and also upgrade your living conditions. Is the house feeling a bit bland? Why not add a collection of paintings! Nice weather outside? How about some nice patio chairs or a swimming pool? All you need is a steady income (so make sure you pick a character with a decent salary) and you can simply go to the store to pick and choose!

Amazingly, Virtual Families is played in real time, which means that you can close the game and go about your day-to-day activities only to come back and realize life continues inside your virtual home!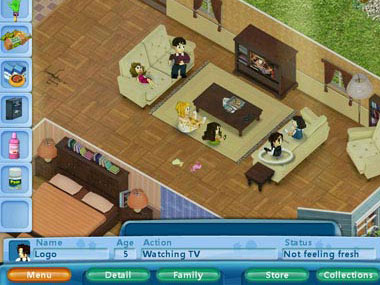 While this game focuses on human characters, it does sometimes feel a bit like owning one of those little Tamagotchis… remember, the digital hand-held pets that were insanely popular a decade ago? Similarly to this game, Tamagotchis are housed in a small egg-shaped computer with an interface. Now granted, Tamagotchis usually only had three buttons to control them and here you are raising an entire family with pets and a house to run… but still!
Either way Virtual Families is lots of fun for any gamers who like to nurture and grow!
Download and play the full version of Virtual Families for free!
Game Review: Virtual Families
Download FREE
Download this FULL Version PC Game with No Time Limits for FREE!