Virtual Villagers 5 – New Believers
Download FREE »
Return to the beautiful island of Isola to build a village and solve puzzles
If you enjoyed visiting the beautiful island of Isola in the previous Virtual Villagers games, you'll love Part 5: New Believers. Why? Because for the first time ever, you'll get to play god. That's right, you're not a reporter, a famous professor or the chief of a tribe. You are a powerful omnipresent being that can cause earthquakes and lightning bolts, but most importantly, you must help your Island people survive the dangerous predicament they find themselves in…
Five of your people (or 'villagers') are captured by a faceless tribe of heathens. They are taken deep into the jungle in the center of Isola. Surrounded day and night by the masked heathens, the villagers must struggle to gather food, build shelter and convince their captors to 'believe' in you, their god, and regain some hope and faith.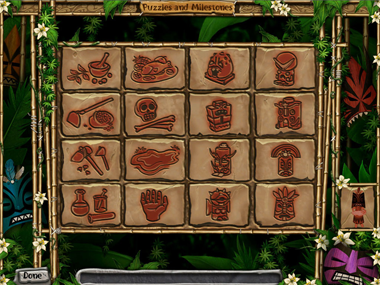 Overall, Virtual Villagers 5: New Believers sticks very closely to the format of its predecessors: riveting simulation game play, rich tropical graphics, lovable characters and a moving soundtrack.  You start by selecting the 5 villagers that will make up your tribe. You have a large number of villagers to choose from. Our advice is to choose at least one female over 18 years of age (reproducing age), one male in his twenties and one child. Adults in their twenties are important because they will have a longer life span and they can reproduce and grow your tribe. Having one child is important because they help with picking mushrooms and berries and gathering collectibles. For the fifth slot, you can choose someone older, their experience will help.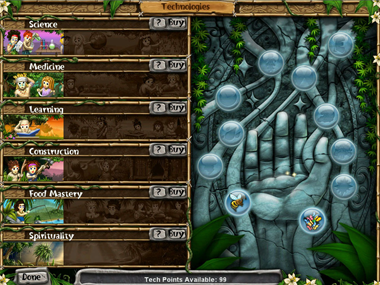 Making a food bin out of branches, building a hut and a love shack are some of the initial tasks you'll need to guide the villagers to accomplish. At the same time, the children need to collect food and relics that provide bonuses and the energy needed to unleash your holy powers. There are many sites to explore including a hospital, a dried up lake and a wrecked aqueduct. These are the places where your villagers can learn the skills necessary to survive: Healing, Research, Farming and Devotion, a new skill that helps convert the heathens into believers. Most of these sites are blocked by totems and guarded by heathens in colored masks. You must get past them in order to solve most of the game's puzzles. This is where your godly powers come in handy. You can create a lightning strike, for example, and frighten off the heathens long enough for your villagers to tear down the totem. Each site requires a different tactic, but that should be no big challenge for a spiritual ruler like you!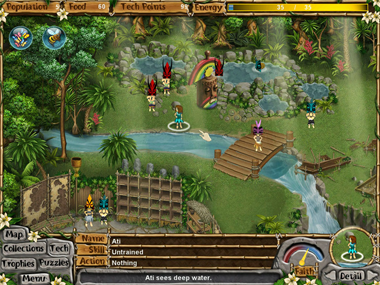 Some heathens (the ones wearing blue masks) are more open minded and could be persuaded to take off their masks and become one of your villagers. This is a good way of increasing your peoples' numbers, so it's important to try and get those heathens to 'see the light'.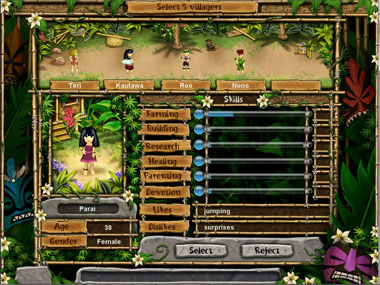 Virtual Villagers 5: New Believers is a fantastic simulation game that is filled with endless possibilities. Our recommendation: if you are an experienced simulation player, dive right into New Believers. If you're a beginner, try one of the earlier chapters of Virtual Villagers first. You'll be better prepared for the complexities of New Believers and will have a better chance at converting those nasty heathens! Enjoy!
Download FREE
Download this FULL Version PC Game with No Time Limits for FREE!